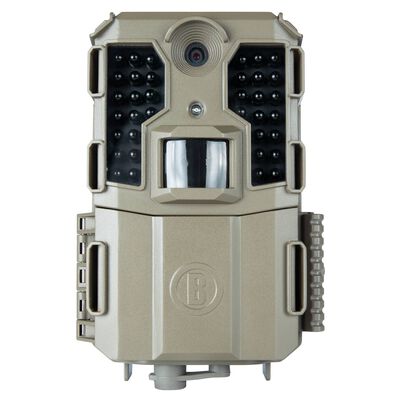 Volume Discount
Model: 119930B
Only $79.99 each when you purchase 2 or more.
Trail Cameras Prime
When you are new to a hobby, such as game hunting, you don't want to splurge on the most high-tech and expensive gadgets and gear without learning the basics first.
You might quickly get confused and intimidated by outdoor wildlife camera features such as cellular image transfer, wind and weather tagging, and 4k videos when all you want is one that takes good pictures.
Don't worry, Bushnell's entry-level camera does that, and more. We won't bore you with the details, but one thing is for sure. Bushnell Prime Low Glow Trail Camera beats the competition in image resolution, flash range, affordability, and other essential features.
When choosing an entry-level wildlife trail camera, try to look at these aspects:
Quality – The Bushnell Prime Trail Camera takes 24MP photos and 1080p videos with .3-second trigger speed and one-second recovery time
Price – Its price start at $119.99, lower than most of its competitors, an entry-level price with top of the line features
Ease of use – You can easily navigate through its controls, and you don't have to be tech-savvy to adjust the settings quickly
Durability – Its sturdy design and exterior comes with a premium nylon strap and steel buckle
The Bushnell Prime Low Glow Trail Camera is designed for best results without the sticker shock. It features a fool-proof setup, easy-to-navigate menu, and smart features you'd expect from a Bushnell trail camera.
For wildlife game camera basics, here are some tips to help you get the best pictures on the field:
Keep your wildlife trail camera facing north or away from the sun to prevent washed-out pictures.
Ensure that you have a clear background behind your pictures to help you easily distinguish what animals are in the picture and other details in the images.
Use high-quality lithium batteries that distribute energy charge evenly and can withstand varying temperatures.
Don't scrimp on SD cards. Choose a high-quality card to make sure that it will store all the images correctly.
Remove leaves, twigs, shrubs, or anything that blocks the trail camera's lens or might trigger its image sensors.