Essential Fall Hunting Gear List: 5 Items Every Hunter Needs
Many hunters determine what they need to carry through several trial-and-error attempts over the years. But while experiencing the tribulations of being a hunter is important, we want to make your experience easier, fun, and more rewarding, especially if it's your first hunting trip.
With the fall hunting season upon us, here's a list of hunting gear essentials you don't want to leave behind:
Your Hunting Gear List for This Fall
We've compiled a fall hunting gear list of items that'll significantly improve your hunting experience:
1. Bushnell Impulse Cellular Trail Camera
Scouting wildlife is hard. Animals are skittish and will get spooked and hide if they spot, hear, or smell a human lurking nearby. Even worse, hunters can spend hours without any luck – even during peak hunting season.
This is where a trail camera comes in handy. Also known as hunting cameras or game cameras, trail cameras help to capture remote images of animals. They can save a significant amount of time scouting and give you a better idea of where to set up for your next hunt.
The Bushnell Impulse Cellular Trail Camera offers an extremely fast detection circuit and over 100 feet of detection range. Here's why this Bushnell trail camera is a must-have:
Connectivity
The Impulse allows hunters to remotely view images and manage the camera via AT&T or Verizon cellular data with no contract. They can also view and sort videos and photos via the mobile app or website.
With the Live Capture feature, hunters can activate the camera remotely at any time for a live look. This trail camera also comes with Bluetooth and Wi-Fi connectivity that allows you to operate the camera up to 150 feet away.
Photo and Video Quality
The Bushnell trail camera takes 20MP photos and 1920x1080p videos, meaning that the daytime pictures have focused, crisp, and clear image quality. Being a Red Glow IR camera, the night pictures are solid with good clarity and ample flash range.
The trigger speed of the Impulse is 0.2 seconds with an invisible 100-foot infrared flash range for discreet nighttime illumination. It shoots still images as fast as one per second with detailed information including the timestamps, temperature, barometric pressure, wind speed and direction, and more.
Memory
The Impulse records videos and photos to a user-supplied SD memory card of up to 32GB. This means that it can save up to 520 photos in 20MP format or 320 minutes of 1080p (Full HD) videos.
Power
This portable trail camera runs on 12 AA lithium batteries and is solar panel compatible, making it the perfect gadget for hunters off the grid. The picture daytime/nighttime power consumption is about 26Ws/30Ws, while the video daytime/nighttime power consumption is about 49Ws/126Ws.
In other words, if the camera takes 15-day pictures and 15-night pictures every day, it will last approximately 2.3 months on the lithium batteries without compromising on performance.
Security
If the trail camera is moved, the Impulse's built-in GPS kicks in by shutting down all the camera's functions except the location signal. In this state, the camera can run up to six months on a new set of batteries.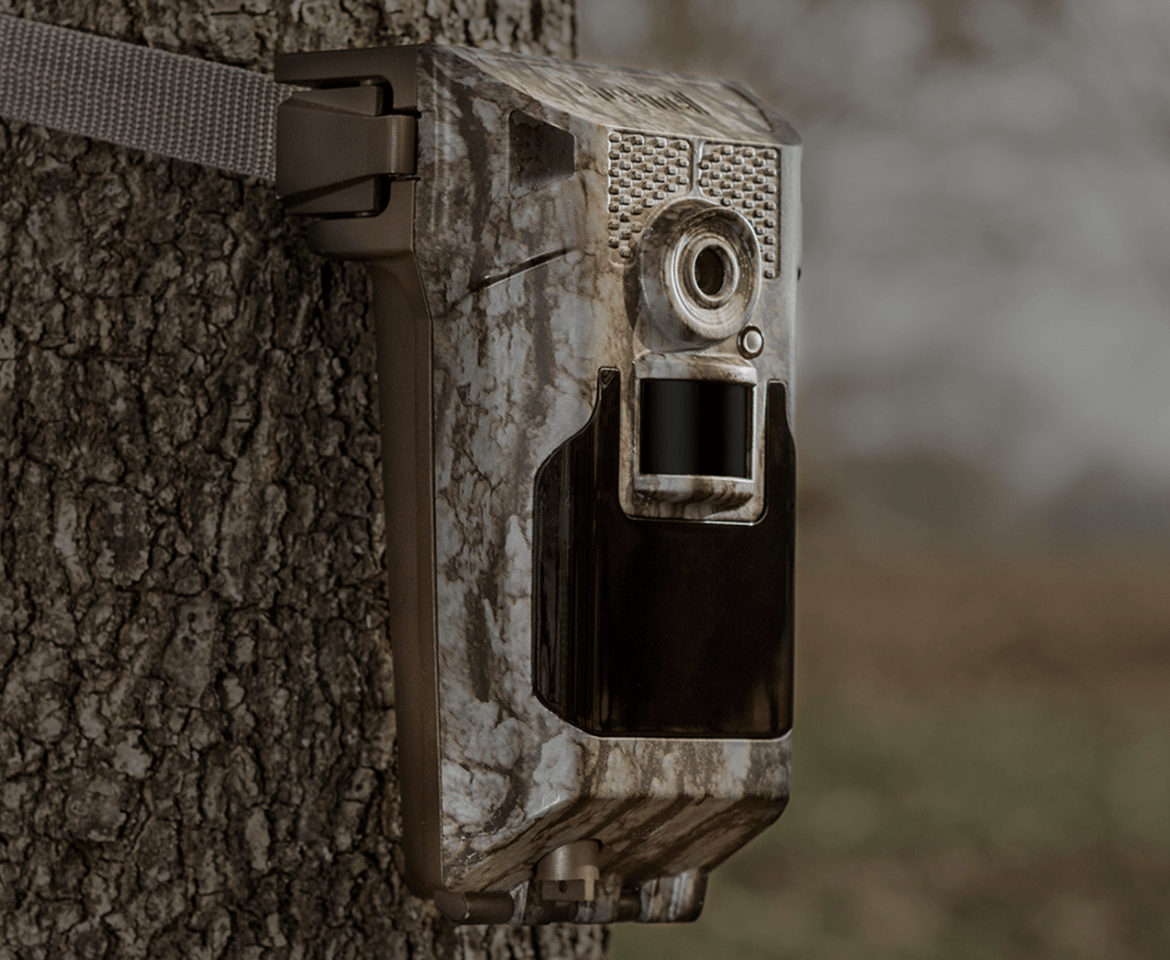 2. Primos Double Bull Surroundview Hunting Blinds
If you're looking for a nice way to set up at ground level this fall rather than in a tree stand, look no further than Primos Double Bull blinds. These blinds are the perfect solution for the hunter who wants to be well camouflaged without sacrificing their line of sight.
Lightweight
These blinds are extremely light weight, weighing in at just over 20 pounds. This allows you to take the blind with you wherever you want to set up without worrying about too much extra weight slowing you down.
One-Way-See-Through Walls
The Double Bull Surroundview blinds are the "blind without a blind spot". With exclusive one-way-see-through technology, you are able to see out of the blind, while the animal can't see in. It features thousands of small holes that dot the fabric so you can see out without interference. The outside is covered in camo that forces the eye to focus on the camo pattern, making the holes nearly invisible. This makes staying unseen much easier and can drastically improve the success of your hunt.
7-Second Setup
Double Bull blinds can be set up quickly and quietly in as little as 7 seconds. This can be extremely important if you are in a spot with animals in the area and need cover quickly, without spooking your target.
TRUTH Camo
Primos Exclusive TRUTH Camo is featured on the Double Bull Surroundview. This camo features a mix of shadows and patterns that help break up the shape of the blind making it less noticeable, more natural, and less likely to alert animals. You won't find a better hunting blind than the Double Bull Surroundview on the market.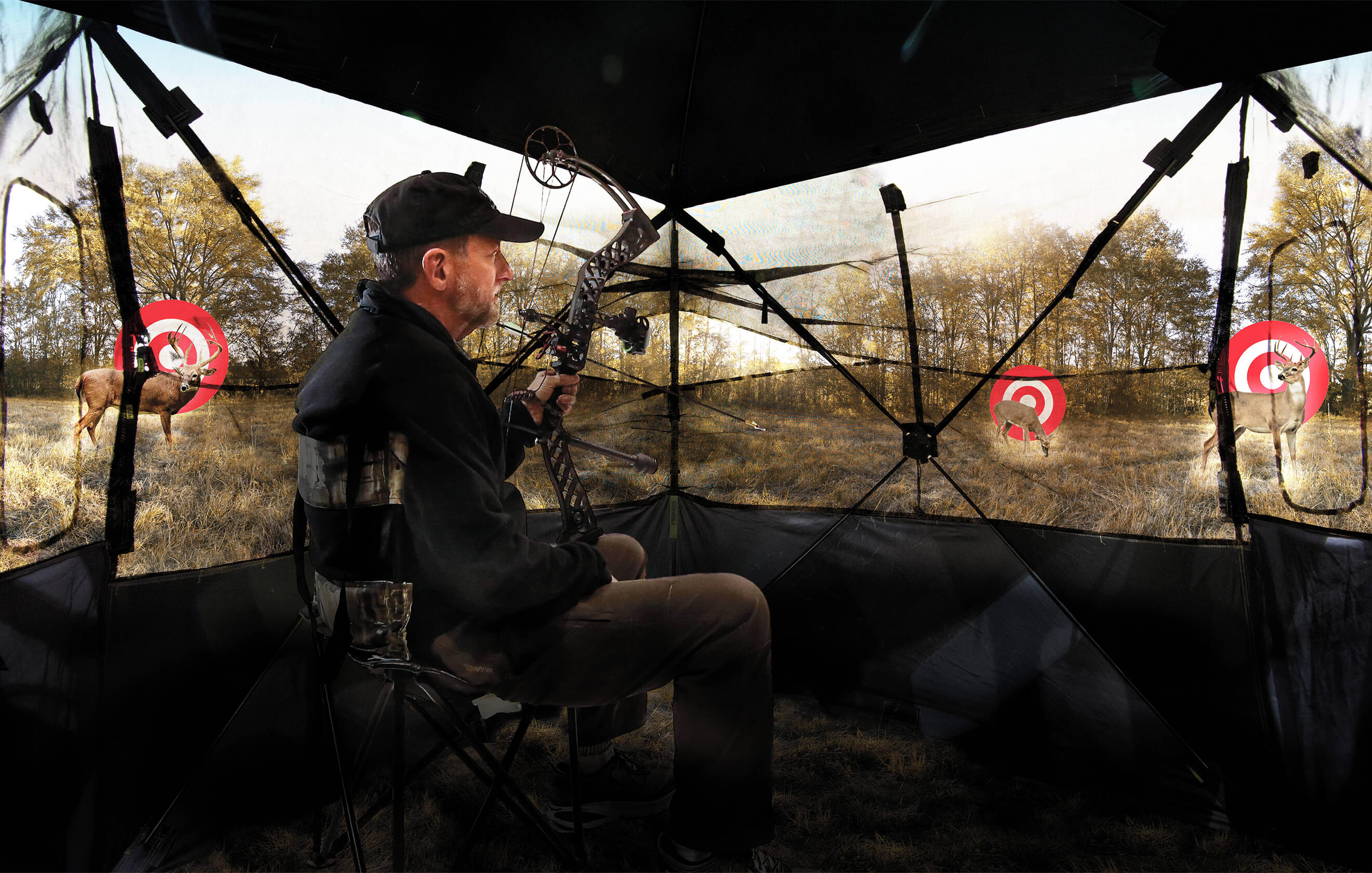 3. Butler Creek Featherlight Slings
If you're already weighed down with a backpack during backcountry hunting, even an ounce of weight can compound itself to feel like a heavy load on your shoulders. This is why the Butler Creek Featherlight Sling is important. Constructed with durable materials, this sling keeps the firearm comfortably and safely seated on the shoulders, making the load feel lighter and absorb shock better.
The top features of the Butler Creek Featherlight Sling include:
Lightweight
The closed-cell foam construction of this sling makes it 45% lighter than the average padded sling. This allows hunters to go further for longer without feeling the extra weight of the firearm.
Comfortable and Breathable
A firearm sling lies on the bony part of the shoulder and clavicle. When heat is trapped under the sling, that area starts to sweat, and the weight begins to move back and forth. This forms painful blisters and bruises.
The evenly spaced cut-out slots on the Butler Creek Featherlight sling allows trapped heat to escape easily, providing the necessary grip on the shoulders. Additionally, the sling is soft on the inner shoulder foam to offer all-day comfort.
Adjustable and Secure
Anyone who has navigated rough terrain with a dangling rifle on the shoulders will appreciate how the Featherlight sling stays put even with vigorous movements. This sling is adjustable from 22-36 inches, meaning that it can be easily tailored to any user's size.
Additionally, for added security when hiking rough terrain, the Featherlight Sling comes with a large thumb loop at one end that firmly secures the firearm while walking.
Quick Access
The Featherlight Multipurpose Sling features two built-in cartridge holders to give hunters quick access to their ammo when they need it.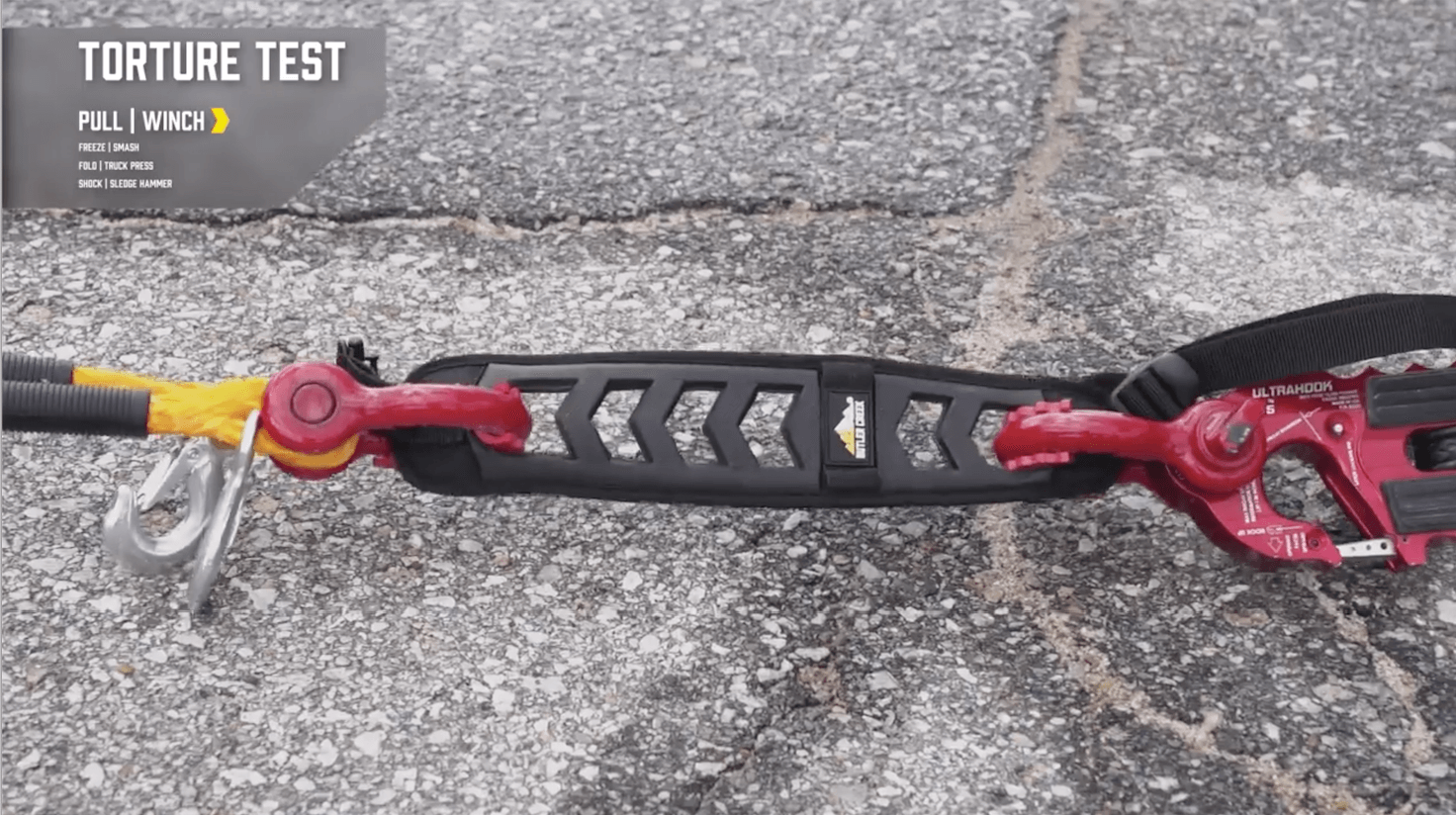 4. Bushnell Prime Laser Rangefinders (LRFs)
This is one of the most important items to include in your fall hunting loadout. With an improved LCD display and an all-glass optical system, Bushnell's new line of laser rangefinders has taken hunting to the next level. Bushnell LRFs have 40% larger objective lenses to offer a 2x brighter viewing experience.
The Bushnell Prime Laser Rangefinders also come with high light transmission to optimize the lighting performance in all environments, especially in low light conditions. Additionally, the multicoated optics coupled with the ultra-wideband coatings offer bright, authentic colors for an extended, true-to-life viewing experience.
The Prime LRFs are available in two versions:
Bushnell Prime 1300

: This LRF has a reflective distance of 1300 yards, 800 yards to tree, and 600 yards to deer.

Bushnell Prime 1700

: This LRF has a reflective distance of 1760 yards, 1000 yards to tree, and 700 to deer, hence, it's more powerful.
Some of the features that make the Prime LRFs better than other brands on the market include:
EXO Barrier
Bushnell's exclusive EXO Barrier technology bonds to the lens surfaces of these rangefinders to repel water, fog, debris, oil, and dust for the ultimate outdoor protection.
Angle Range Compensation (ARC) Technology
This technology accounts for the downhill and uphill angles when ranging to give the true range of the target.
Scan Mode
This feature updates the target distance on the LCD display up to 4 times per second while scanning across the landscape.
Vivid Display Reticle
The Prime rangefinders were built with user-friendliness in mind. The display reticle has the yardage, battery life, angle, and ranging mode readouts displayed. This gives you the much-needed confidence to make accurate shots.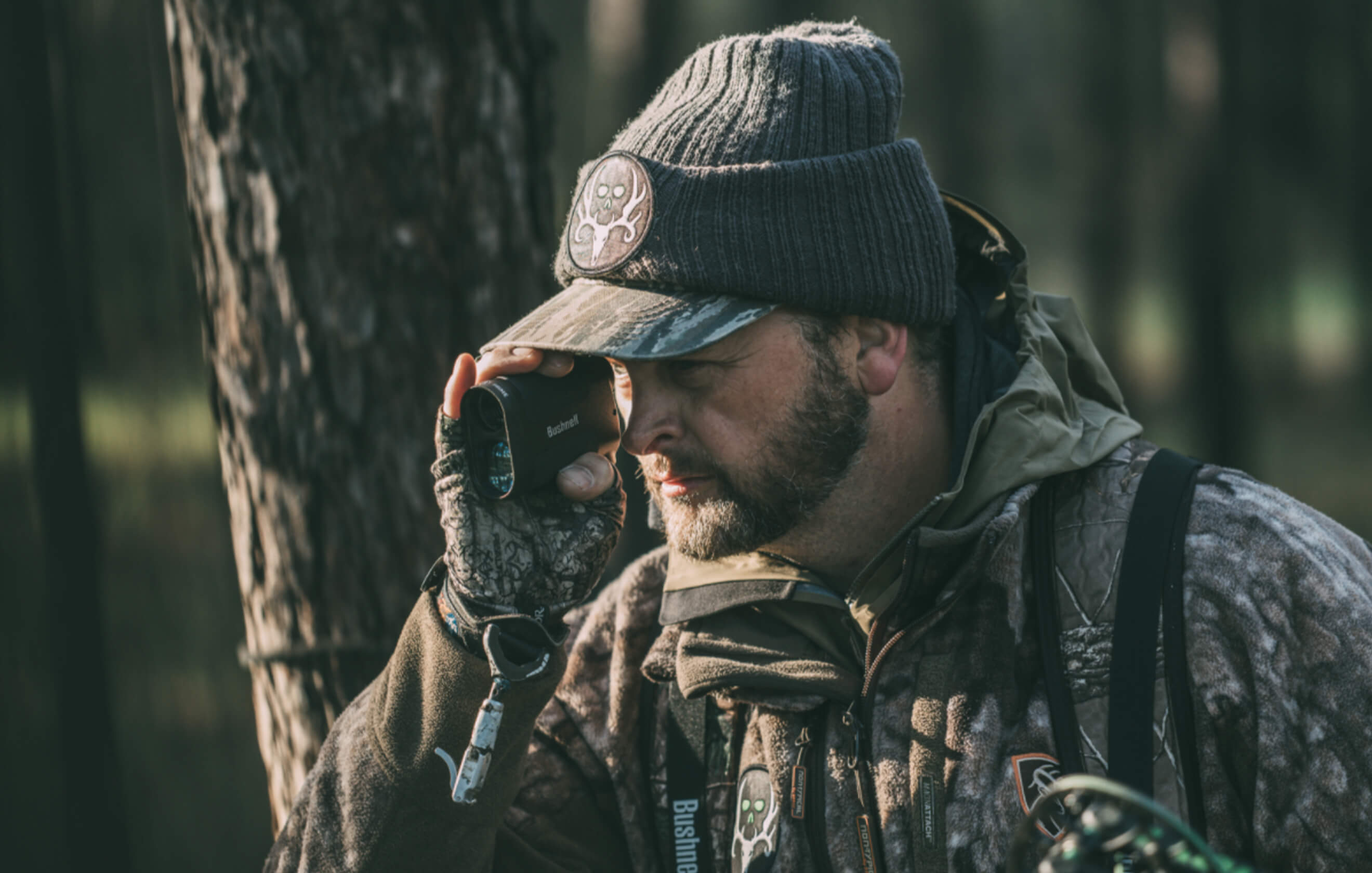 5. Bushnell Prime Binoculars
Quality binoculars shouldn't be forgotten in your fall hunting gear loadout. Bushnell Prime Binoculars are all roof prism binoculars. This means they're lightweight, compact, and comfortable to hold – perfect for any hunting situation. They come in different configurations suitable for a range of applications, including:
Prime 12x50 Binoculars

: 12x magnification power with 50mm objective lenses

Prime 10x42 Binoculars

: 10x magnification power with 42mm objective lenses

Prime 10x28 Binoculars

: 10x magnification power with 28mm objective lenses

Prime 10x25 Binoculars

: 10x magnification power with 25mm objective lenses

Prime 8x42 Binoculars

: 8x magnification power with 42mm objective lenses

Prime 8x32 Binoculars

: 8x magnification power with 32mm objective lenses
All the Prime Binoculars have the following features:
Fully Multicoated Optics
These lenses have several layers of anti-reflective coatings to offer incredible color and brightness for the ultimate outdoor viewing experience.
IPX7 Waterproof Construction
Like most Bushnell binoculars, Prime Binoculars have a waterproof rating of IPX7. This means they can be submerged up 3.3 feet of water for up 30 minutes without getting damaged. These O-ring-sealed optics are also fog-proof and shockproof.
EXO Barrier Technology
Bushnell's exclusive EXO Barrier technology is a protective lens coating that bonds to the glass of your binoculars and works to repel water, dust, oil, debris, and scratches. This boosts the life of the binocular out in the elements.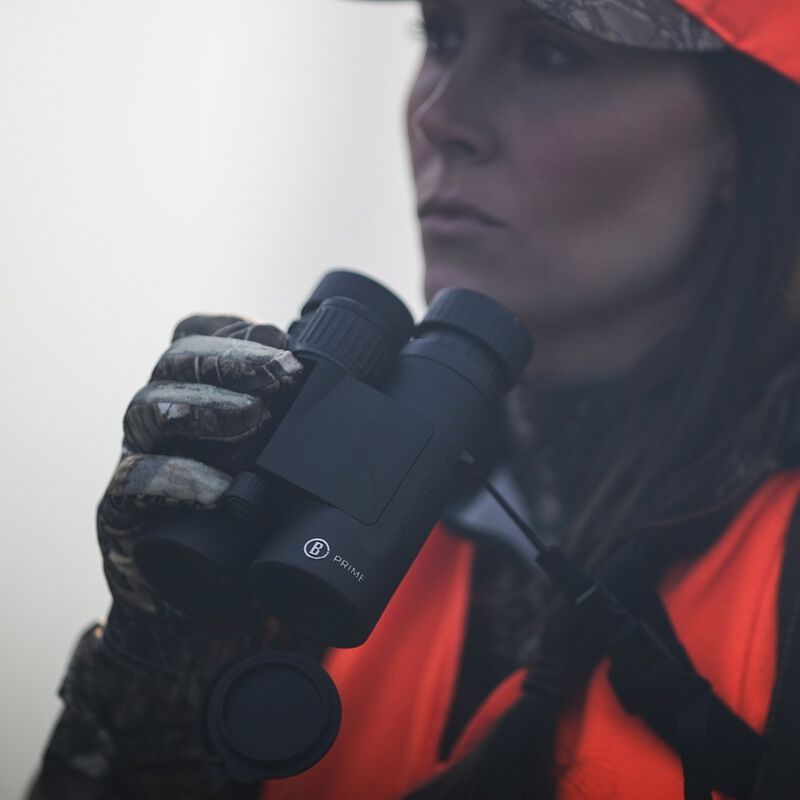 Honorable Mention: Go Condition Supplement
One more item you might consider adding to your list is Go Condition. A successful hunting expedition goes beyond having the right gear. While that's extremely important, hunters also need to have their bodies in top shape. To boost performance and focus, look no further than Go Condition.
This powerful all-natural formula was originally made for military personnel to help them perform, focus, and recover faster under extreme environments. The supplement conveniently comes in capsule form for an odorless, tasteless, and easy swallowing.
Go Condition contains three main flavonoid-rich ingredients: green tea, bilberries, and quercetin. It also contains caffeine, vitamin C, and fish oil. These ingredients work together to improve immunity, reduce inflammation, and enhance mental function.
Green Tea
Green tea is popularly cultivated for its generous amount of flavonoids. Specifically, it contains catechins, which are natural flavonoid antioxidants that help prevent cell damage, reduce the formation of free radicals in the body, and help prevent infectious diseases. One capsule of Go Condition is equivalent to drinking a cup of the highest quality of green tea.
Bilberries
Also known as European berries, bilberries are a good source of anthocyanins – a powerful flavonoid antioxidant that possesses anti-inflammatory, anti-obesity, antimicrobial, and antidiabetic effects as well as preventing cardiovascular diseases. It's also the compound responsible for giving the bilberries their characteristic color.
Research also shows that the anthocyanosides found in bilberries promote blood vessel strength which has protective properties against retinal damage. This will help hunters vision for better accuracy on shots.
Quercetin
Quercetin contains flavonoids linked to the reduction of the severity of upper respiratory tract infections (URTIs) such as sore throat, nasal obstruction, common cold, pharyngitis, tonsillitis, sinusitis, and laryngitis. Common foods containing appreciable amounts of quercetin include green tea, kale, berries, apples, and red onions.
Caffeine
Caffeine intake has tremendous mental enhancing effects including improved vigilance, working memory, attention, psychomotor processing speed, and reaction time. Since caffeine is easily absorbed, its cognitive effects occur within a timeframe of up to 6 hours from the time of ingestion.
Vitamin C
Vitamin C supplementation promotes white blood cell production which, in turn, protects the body from infections and potentially harmful molecules. They also help fasten wound healing. Vitamin C is mainly packed in citrus fruits like oranges and some berries.
Fish Oil
Fish oil is rich in polyunsaturated fatty acids. When combined with quercetin, it has anti-inflammatory effects on the body.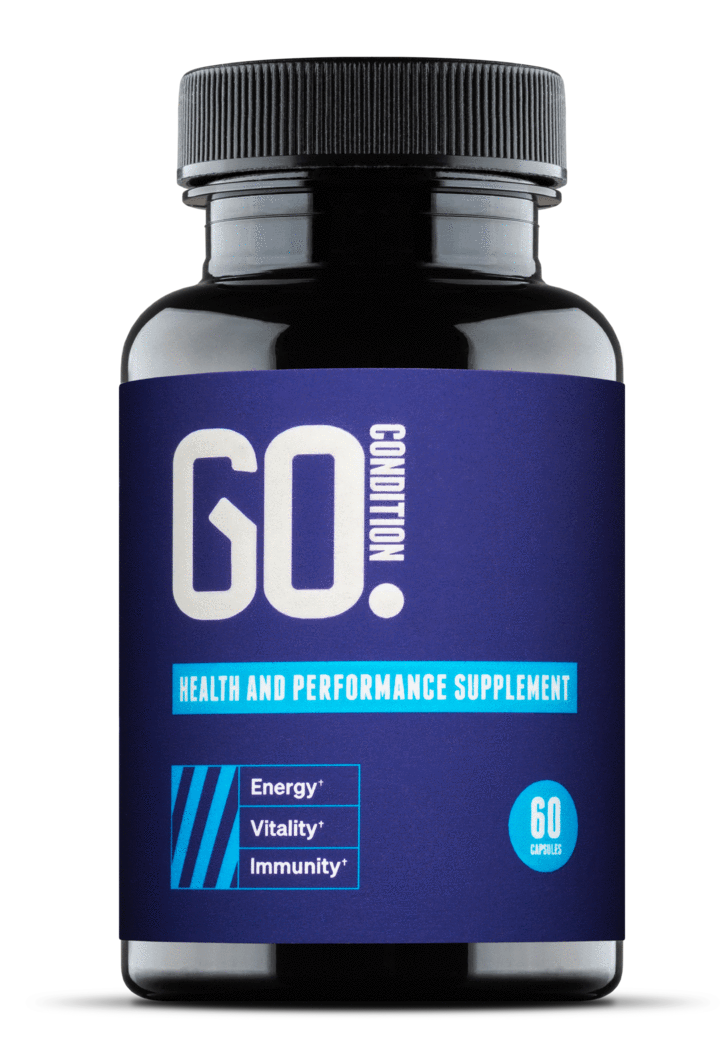 Start Preparing Your Essential Fall Hunting Gear List Today
The essential items above should never miss on your rifle or bow hunting gear list. They make the difference between a successful hunt and an unrewarding one. Always strive to have all the necessary items on your hunting checklist to make cross-referencing easy when packing.
See the other hunting products you should add to your fall hunting gear list.