Missy Gilliland: A Fierce National PRS Competitor
Shooting a firearm in a consistently accurate manner at 1,000 yards is an accomplishment that requires discipline and serious mental fortitude. We're not talking about merely hitting a target at that distance. Those competing for top rankings in the thriving sport of long-range rifle shooting understand that winning downrange performance is measured in fractions.
There's no place where the fun and challenge of this sport is greater than in the Precision Rifle Series. The PRS has organized national and local competitions with grouped shooters in multiple categories culminating in national events since 2012. A point system keeps the competition vigorous. Over a weekend, shooters compete in matches where they can earn up to 100 points. Each match uses a variety of different-sized targets placed from a few hundred out to 1,200 yards or beyond. Competitors working under the pressure of the clock move between barricades and prone positions.
Just One of the Guys
It's physical, demanding, and intense. In the PRS, you're always competing for points to stay at the pro level. The pressure lurks continually. Some merely survive it better than others, while others thrive on it. One of the most consistent performers, and a recent second place finisher at the ALTUS LRS 3/5 PRS Southeast Regional Match in early May, is Missy Gilliland. Now in her seventh year of PRS competition and pro staff member of Team Bushnell, she'll tell you that she's just one of the guys.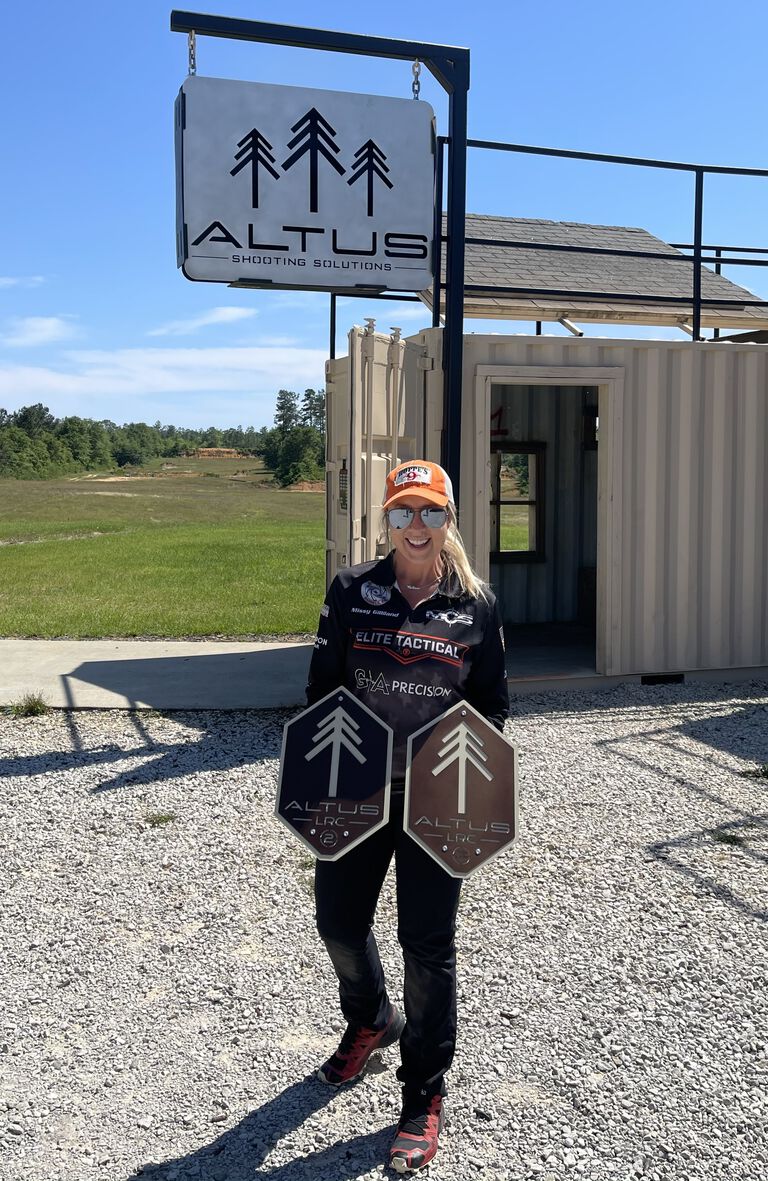 "One of the things that keeps me coming back to the PRS is not just my love for the shooting sports and my competitive nature, but also because there's no standalone women's division. There is recognition for a top female, but no separate division," said Gilliland.
In the PRS series there is no gender distinction when it comes to the course of fire. Women shoot the same courses with the same rules the men do. And, to be competitive and ensure an even playing field for everyone, women must adhere to the same calibers/restrictions the men do as well.
"My competition rifle weighs about 16 pounds, and it has a setup I need to shoot competitively. It weighs what it weighs," she laughed.
Gilliland was always been engaged in the shooting sports. When her husband, Jim, a renowned retired U.S. Army sniper who once took out an insurgent at 1,250 meters, started attending matches, everyone asked Missy, "Where's your gun?"
The switch for her flipped immediately, and Missy began attending every match she could. Once she found her toehold, she became intrigued with developing strategies that could make her successful. "I love the math, I love the practice, and I attend matches with or without my husband. I have for years now," she said.
When she started, there was a handful of women shooting in PRS. Today, there is a considerable number of active lady competitors, and the numbers have more than doubled at the Pro and Semi-Pro levels.
"The competition is fierce. But it's also a unique sport where you're competing with yourself and everyone as a competitive shooter during any particular year. The pressure never stops, and that's the way I like it," she said.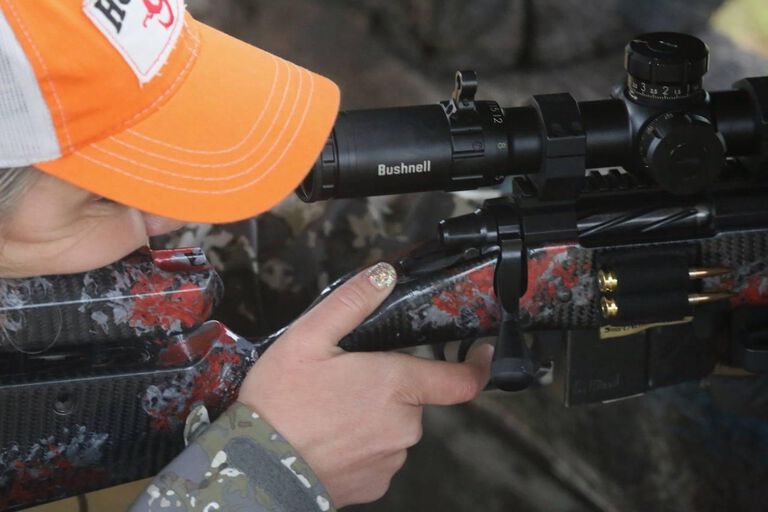 About That 16-Pound Gun
Missy's go-to PRS competition rifle is built by G.A. Precision around a G.A. Precision Templar VII action created by Montana's Defiance Machine, and rides a 6mm Creedmoor tube from Wyoming's Bartlein Barrels, Inc. That barrel wears a brake from American Precision Arms. The gun's foundation is a Manners T2A stock with an Area 419 ARCA rail, and Gilliland uses a Timney trigger to send her handloads of Berger bullets and Lapua brass far, far away.
Success at distance is achieved with a Bushnell Elite Tactical DMRII 3.5-21X50mm scope. Gilliland also uses a Bushnell Forge Spotting Scope on course, just one of the many accessories and bags from Armageddon Gear she hauls to each match. (Armageddon Gear, headquartered in Buena Vista, Georgia, is a second home of sorts for this shooter, as she's the company's Vice President of Operations.) With its bipod, the rifle comes in at about 16 pounds. It retails for around $8,500.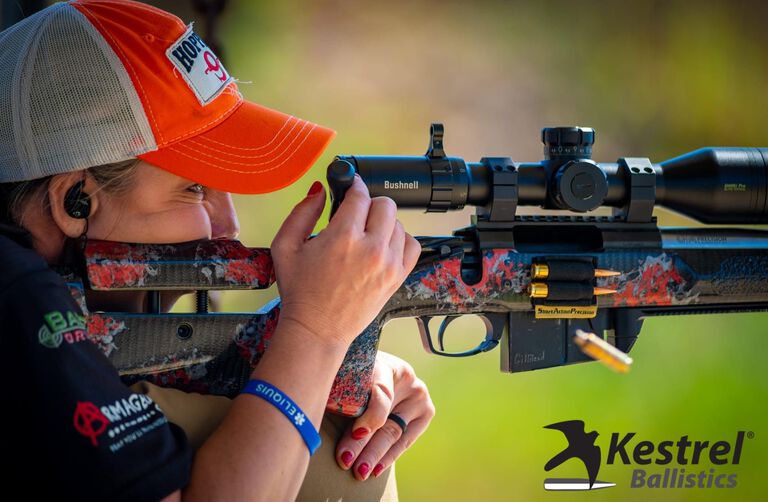 Match Time on Facebook
When you have over 200,000 followers on Facebook, there's always something to say and something being said. Gilliland frequently posts during matches and has found it remarkable just how opinionated the world can be.
To prove a point, she told me that, in the beginning of her shooting career, she'd post a photo of her husband and get a hail of support like, "Way to go, Jim! Great shot!" When she'd post a similar photo of herself in the same situation and shooting position, 90 percent of responses were supportive and positive, but a small number would reply, "Hey, you're not holding the gun right!" or the ever so condescending, "You're going to hurt yourself!"
Gilliland says it's just part of the mix, though she's pleased that a lot of the Debbie Downer remarks have died down over the years. She laughingly told me, "I always get a couple memes that state 'I'm Not Impressed.'" We're betting the feeling's mutual.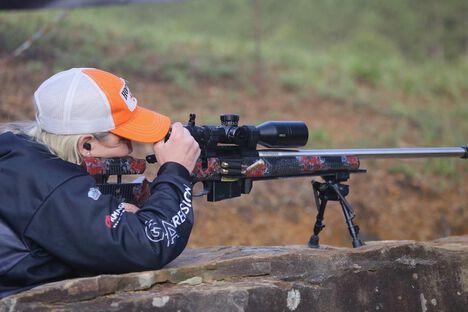 PRS competitors must balance weighted rifles on uneven surfaces while being under strict time limits to hit up to 12 shots on targets out to 1400+ yards


Competitors Are Extended Family
Gilliland admitted the PRS, for her, is an addiction layered with the desire to spend time with her friends. Gilliland shoots on Team GAP who have become her extended family.
"It's really the people who keep me in this shooting series, she explained. "It's difficult to express just how attached you become to folks you compete against. When the clock starts, there's intense rivalry. But everyone wants you to do well. They even root for you.
I'm always comfortable at a match. It feels like my competitors are often extended family," she added.
Gilliland now has a decade of competitive shooting experience. She would tell you, man or woman, if distance shooting has any appeal for you, look up the PRS website, find a match, and attend. She also recommends attending the GAP Grind/Bushnell Pro/Am, where experienced shooters interact with amateurs in a formal capacity. Said Gilliland, "If you just get to a match, there's good chance you'll come back as a competitor!"
A Rangefinder with Legs
For those looking to stretch their game and have a range where targets can be placed randomly, a rangefinder can be a handy piece of equipment. One that goes the distance is the Bushnell Nitro 1800 Laser Rangefinder with its built-in Applied Ballistics intelligence. What that gets you are ballistic solutions to 800 yards, and that's a very good start is you're starting to work on targets beyond the 200-yard target berm for the first time. If, on the other hand, you've mastered 400, 500, 600 yards, and more and are starting to think you're headed for "miracle shot" glory, then this model is still the right choice, because those ballistic solutions can be upgraded to 2,000 yards or more.