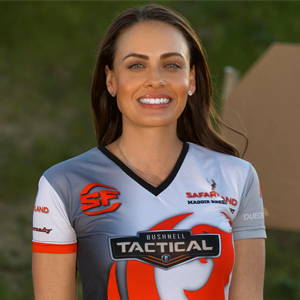 Maggie Reese had plenty of interests growing up, but shooting just wasn't one of them. Her dad, a recreational match shooter, had been asking Maggie for years to go to the range just once and give it a try. Maggie finally agreed, right around the time she was 18.
"I loved it so much. I never played sports or had been athletic before, and I didn't consider myself a competitive person," Maggie said. "But I loved shooting. I loved competing for fun. I loved the people we met and spending time with Dad. We shot for fun, and 10 years into it, I said I wanted to do a big-time national match."
One big-time match led to the next one. Somewhere along the line Maggie became one of the top female competitive shooters in the country.
There are a wide variety of shooting sports, and Maggie has made a point to try as many as possible and not specialize in one particular discipline.
"Even in sports where I'm not the best or most competitive, I enjoy being there. I'm fortunate to go out and do something I really love," Maggie said. "If I had to pick a favorite event, maybe the USPSA Multi-Gun Nationals. You shoot three guns, the stages are fantastic, it's a national meet. They've just got really good people involved."
Maggie has also seen the participation of women rise in the years since finally accepting her Dad's invitation to go to the range.
"Now at the major matches, there will be groups of ladies, and we'll meet up and become friends. Dedicated matches just for women are filling up and selling out," Maggie said. "It has been a change in the last two or three years. It's been pretty cool."
CAREER HIGHLIGHTS
"It's not a shot, but the Moving Target Event at the 2015 NRA Bianchi Cup. I shot my best score in the competition, a score I never shot in practice, 478 (out of 480). You always want to shoot up to your abilities. For me to go out there and not only shoot my best score, but better than I've ever shot in practice, it seems like the stars just aligned. I put everything together and did something that made me proud."
Three-time National Champion in USPSA Multi-Gun
Multi-time Ladies Champion at Superstition Mountain Mystery 3-Gun, MGM Ironman 3-Gun, Rocky Mountain 3-Gun
Bronze Medalist in Ladies Production Team at IPSC World 2014
Silver Medalist in Ladies Production Team at IPSC World 2011
Member of Top Shot cast (Season 2)
Also appeared on 3-Gun Nation; Modern Shooter and Shooting USA
---