BEST HUNTING RANGEFINDERS
CLEARLY BRIGHTER
UP TO 2x BRIGHTER IN LOW LIGHT
The all new Bushnell rangefinders represent the next generation of LRFs. Featuring an all-glass optical system and an improved LCD Display, the new rangefinders offers up to a 2x brighter viewing experience. Providing enhanced light transmission for a brighter, clearer image, the new Bushnell LRFs extend your vision when it matters most.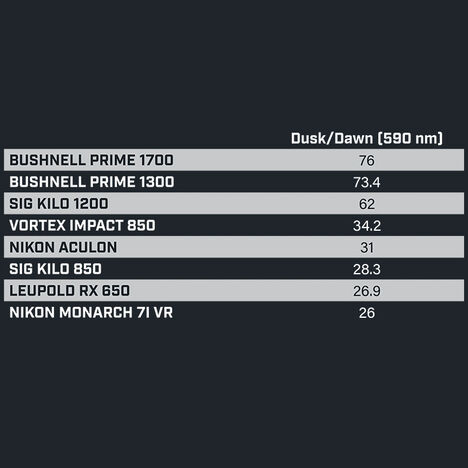 Competitor Product Comparison
We enlisted an independent, third-party company - Gamma Scientific, to measure light transmission with a Model C-11 Spectroradiometer to prove how we stack up to the competition. The wavelength measured was in 590 nanometers to simulate dusk/dawn. Here are the results.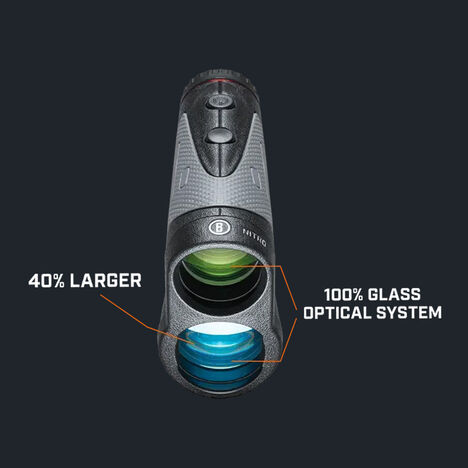 BRIGHTER, CLEARER, MORE ACCURATE
The human eye has its limitations. The new Bushnell rangefinders do not. Specifically designed to improve your vision, the all Bushnell LRFs provide the power of a monocular in a laser rangefinder. Each new model is standard with all-glass optical system, a 40% larger objective lens and are fully multi-coated so that no detail goes unnoticed. All models feature a two lens system, typically only found on more expensive models, along with a powerful laser diode for longer, more accurate ranging. With 6x magnification and 2x light transmission, these new models are clearly brighter in every way.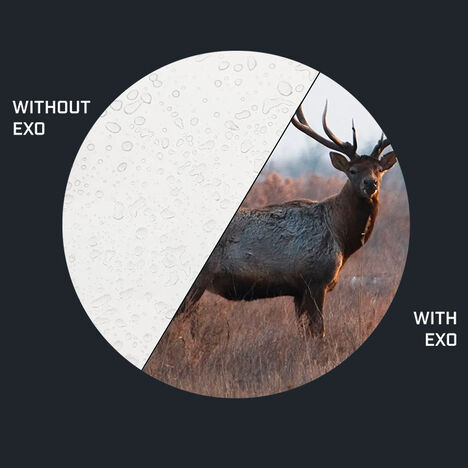 EXO BARRIER
EXO Barrier, quite simply, is the best protective lens coating technology BUSHNELL has ever developed. Added at the end of the coating process, EXO Barrier molecularly bonds to the lens and its microscopic pores in the glass. The result is an ultra-slick coatting that repels water, oil, fog, dust and debris - rain, snow fingerprints and dirt will not stick. EXO Barrier is built to last: the bonded coating will not fade from the passage of time or normal wear and tear.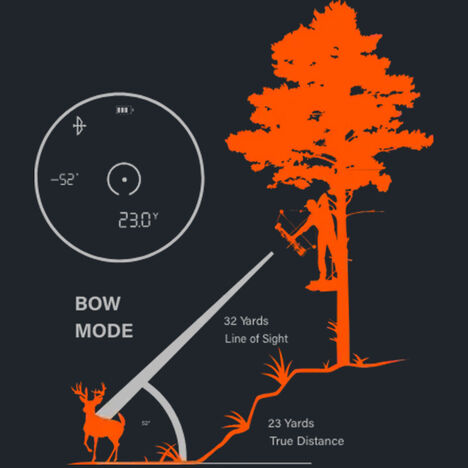 TRUE DISTANCE WITH ARC (ANGLE RANGE COMPENSATION)
Extreme up and downhill angles alter the true distance to your target. ARC accounts for the terrain angle when calculating distance, so you know precisely how to shoot the range. No guesswork.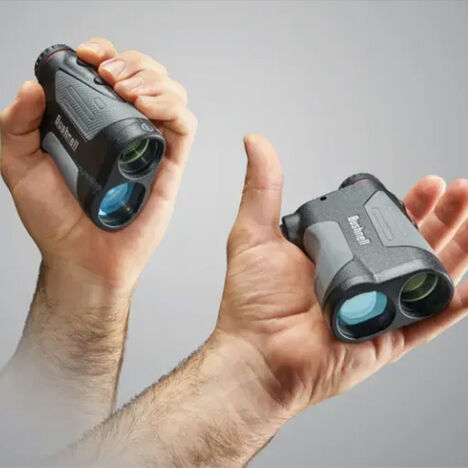 NEW ERGONOMICS
If it doesn't feel right to you, it doesn't feel right to us. That's why we designed the new rangefinders with a unique and improved outer assembly that conforms to your hand and not against it. Comfortable in the hand yet lightweight and balanced, these new Bushnell models offer a textured rubber over mold for secure handling in any condition. Both practical and durable, the new models offer a customized feel that makes anything else feel unwanted.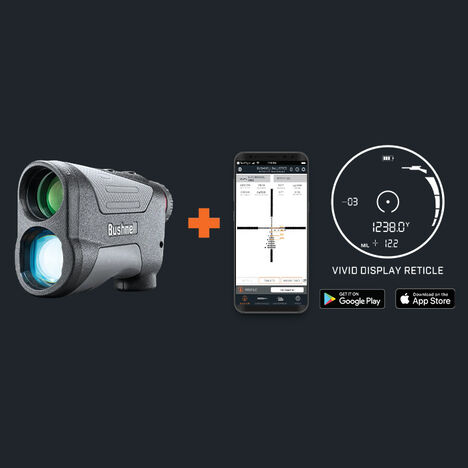 NITRO 1800 with BLUETOOTH & APPLIED BALLISTICS
On the NITRO 1800, you can connect the rangefinder to your smartphone in order to update the display and settings. Configure ballistics data, get holdovers, wind adjustment and more. Download the Bushnell Ballistic App on Google Play or at the App Store.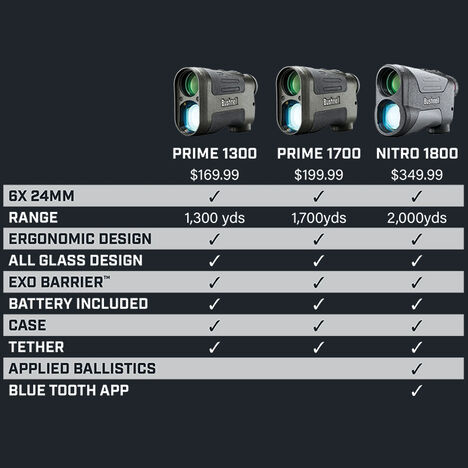 COMPARE LASER RANGEFINDERS