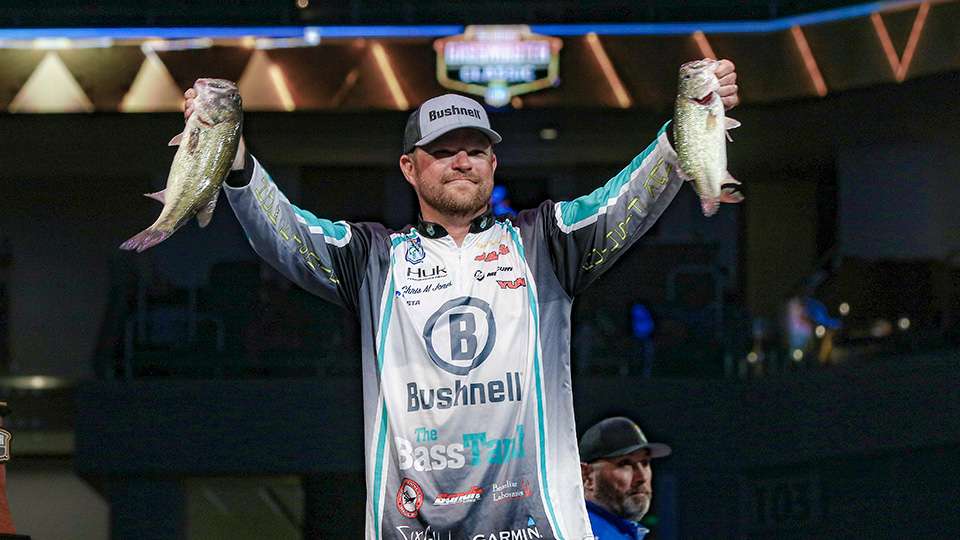 Bushnell Hangs Out the 'Gone Fishing' Sign
If you were one of the millions who tuned in to watch the 2021 Academy Sports + Outdoors Bassmaster Classic that took place in June on Lake Ray Roberts in Fort Worth, Texas, you might have noticed one pro, in particular, standing out among the rest.
Not only did Chris Jones pull in enough fish—45 pounds and 9 ounces of bass to be exact—to land him a rockin' third-place finish and $40,000 in prize money, his jersey bore a prominent "Big B" Bushnell logo front and center.
Wait, Bushnell does fishing?
Well, not exactly. But Bushnell is, more than anything, about the outdoors, and fishing is a big part of the outdoors, just like hunting. And lots of hunters also fish and lots of anglers also hunt.
Chris is one of those dualists—he has an admitted big buck addiction that has him glued to a stand during deer season in his hometown of Bokoshe, Oklahoma—and it made sense to sign on with him and spread a little Bushnell love to those with line and jig in hand.
David Maccar (DM): How do you feel about your overall performance in Texas?
Chris Jones (CJ): It was good—you always want to say you had a lost opportunity, but I really never did. I fished clean all week. First-place just wasn't meant to be. But you don't ever have any regrets if you leave it all out there and you did your best. When I left, I felt like I'd won because I didn't lose anything that cost me the tournament.
DM: What was the biggest fish you pulled out of the lake during the tournament?
CJ: I caught some in practice that were 6, 6½ pounds, but during the competition, I never saw one that was over 5½. I caught one the first day of the competition that was 5¼ pounds, and that was probably my biggest one over three days.
DM: What made you interested in working with Bushnell as an angler? We know that many anglers keep a binocular on their boat, but optics aren't primary gear for those on the Bassmaster circuit.
CJ: I used to hunt way more than I fished, and when I was growing up, my grandparents and my mom and dad were all avid outdoors people. I've used Bushnell products since I was a kid. I remember my first BB gun had a Bushnell scope on it, and I've had two or three Bushnell binos over the years.
At one of the local fishing tournaments here in Oklahoma, I ran into a guy who'd bought one of my boats three or four years ago. Turns out he works at Bushnell. He was telling me that it would be a good idea to get Bushnell some exposure in the fishing world because there are so many people who both hunt and fish. And there's a lot of people who fish and don't know what Bushnell is because Bushnell is mainly on the hunting side of things. It seemed the right time to do some crossover work. Then, when I won the open last year and qualified for the Classic, Bushnell contacted me again, and it's kind of grown from there.
It was one of those dreams come true to be able to have Bushnell as one of my title sponsors, and I hope that the relationship continues for years to come. I hope to get more recognition out there for them and myself and make our brands together grow. I couldn't be happier right now.
DM: While you have several other well-known sponsors spread across your tournament jersey, the Bushnell logo is front and center. Did it spark any conversation among your fellow competitors and onlookers?
CJ: I got a lot of comments like 'That's a cool wrap' and people saying they liked the design, and yes, some people did ask me how it all came about with Bushnell. The fishing industry is such a tight group that there's not a lot of money left to get sponsorships or partnerships with fishing products and companies, so people are looking for different avenues. We can't grow anymore as a fishing group, I don't think, without bringing non-fishing partners into the sport.
Look at NASCAR and its sponsors. You don't necessarily have to be in the fishing world to sponsor an angler. You're just trying to show the people watching the fishing that this guy uses these products. That's the way I look at it. I use Bushnell products all the time, and I use Bushnell trail cams when I hunt all the time. They're just a perfect fit to me.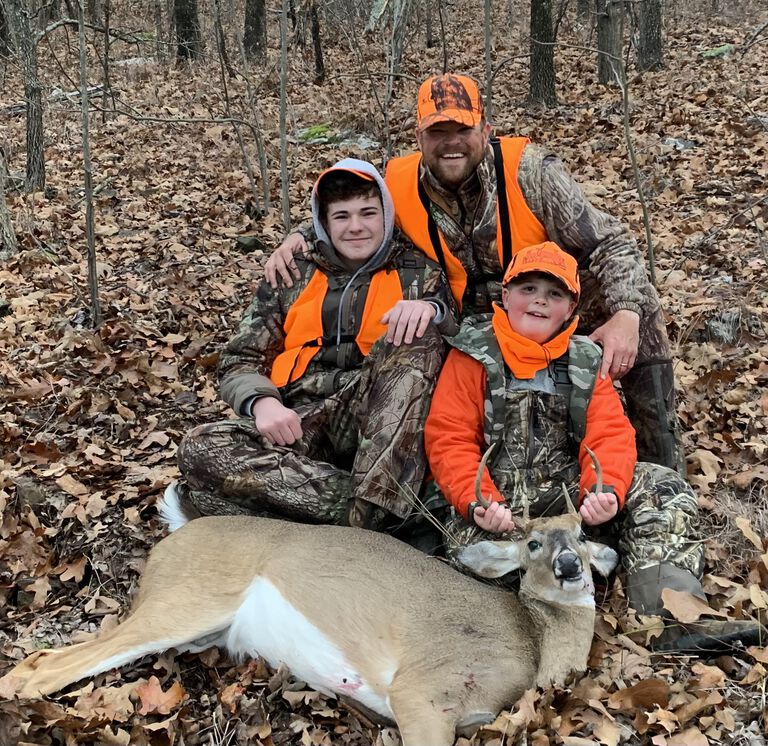 DM: Do you and your family hunt together?
CJ: Oh, yeah! We deer hunt and turkey hunt. We used to duck hunt all the time, but not so much anymore. The duck patterns have moved around in the last few years. The area waterfowl habitats we used to hunt have changed and they aren't near as good as they used to be. Ducks aside, we really love to hunt, especially deer, as a family. Last season, my wife killed a big buck, both my boys killed bucks, and I killed one. It was pretty cool! Oh, by the way, I love to bow hunt. We do it all, but if I had to throw everything else away, I'd bow hunt.
DM: If time and money were no object, what would be your dream hunting and fishing trip?
CJ: My wife really wants to go on an elk hunt because we've never been. But, if it was a dream, once-in-a-lifetime trip, it would have to be to Alaska for bear and fishing for me.
I've always wanted to go kill one of them grizzly bears up there on Kodiak Island. Something like that would be the ultimate hunt. Fred Bear shot one there from behind a rock in the '60s, and I've always said I wanted to do something like that. That's on my bucket list.
B: The fishing world is relatively small. Do you and other competitors hang out together and hunt together?
CJ: Oh, yeah. I've got lots of really good friends who fish. Usually, when we go and fish for like a week, we try to get a house, and three or four of us hang out. It's a lot safer that way when you're traveling, and it's just a lot easier and a lot of fun. We've done some hunting together, too. Most of my friends have been hunting most of their lives. I usually hunt with my family during the off-season, and I imagine most of them do the same. It's our downtime to get away from everything.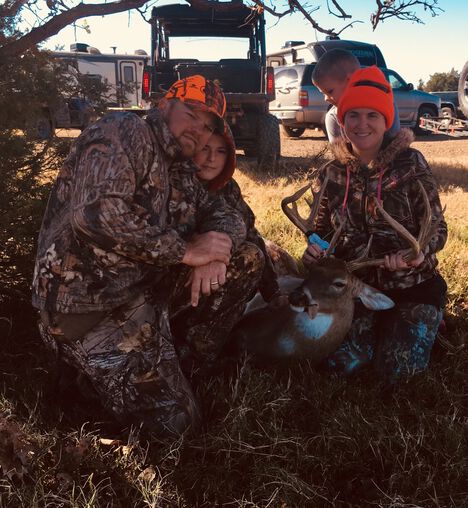 Next up for Jones are several local tournaments in Oklahoma and Arkansas through the summer before he heads to Smith Lake in Jasper, Alabama for the 2021 Basspro.com Bassmaster Open held October 7-9. Wear that jersey with pride, Chris. The Bushnell Family is cheering you on!
Boats and Binoculars—An Uncommonly Smart Match
While anglers don't need rangefinders or scopes, a quality binocular onboard your boat can come in handy. Bushnell's H20 10X42 Waterproof Porro Prism Binocular is an excellent choice for boating and fishing enthusiasts. Its lightweight aluminum chassis is surrounded by an appropriate and handsome blue housing that features Soft Texture Grip, smart for when hands are wet and slimy from handling fish. High-quality BAK-4 Porro prisms pair with generous magnification for super-clear views and vibrant colors—and when you're wondering whether that's a water moccasin slithering toward you or that half-submerged log you want to cast to in alligator country is really a log, glass like this can make the difference between a great day fishing and an adventure you really don't want to have. And, as it says in the name, this fully multi-coated optic is IPX7 waterproof and fog-proof, so no worries about splashes, accidental dunks, or sudden rain squalls blowing up when you're out on the lake.
If you're one of those people who lives for that meme, "Sorry, I can't come to work, my arm's in a cast," we invite you to add this or any binocular in the Bushnell H20 family to your tackle box and boat. We bet that if you do, you'll wonder why you never thought to do this before.—Jennifer L.S. Pearsall