Bushnell Grand Slam: Eastern Turkey Hunt
Rolling into Memphis around 9:00 PM, we headed to Beale Street. Sadly, not a lot happening because the Grizzlies game wasn't out yet and COVID was keeping people away. There must have been a lot of people around. We'd had a hard time finding a place to stay; all the Hotels were booked. Maybe it was just too early in the evening. We had time to kill the next morning to see the sights anyways.
Next morning, we got up and met Jesse Highling, VP Sales & Marketing at Retay, in the lobby. He told us we had a quick stop before breakfast. We walked to the Sun Records studio where Johnny Cash and Elvis got their start. Kind of neat to see that part of the past. Acting on a recommendation, we had an amazing breakfast at a place called Liquor that was nearby. After breakfast, we met up with the rest of the team. It was time to head to the farm to meet up with two more members of the hunting group, Phillip Culpepper and Drake Lamb.
We arrived at Perry Ross' farm around 1 PM. As we were unloading from the truck and getting gear ready, Phillip said he thought he knew where the turkeys were and that he had a plan. Man, was I excited! We got in the trucks and drove down the gravel road about 15 minutes to our hunting site. First thing out of the truck, I see an old abandoned pine log home. I was thinking, if I bagged a turkey, I really wanted to take an awesome picture on that big old front porch. We grabbed our gear and our packs and headed into the woods. Our hunting spot was a clearing in the woods with a big open growing food plot leaning up into a hill. Positioning ourselves off the back of that hill, Phillip started calling. A few minutes later, we had a hen respond and we smiled to ourselves. We were in business! I could see me and my huge longbeard on that cabin porch in the photo already. Like turkey hunts can go, that was the closest we got to one. We spent the rest of the afternoon chasing the turkeys around that valley and had no luck. We got within 100 yards or so of a couple of gobblers at one point. No dice, they wouldn't come in.
The next morning, we took a different approach and worked a flock just to the east of where we had been the previous afternoon. It was a little more heavily wooded. There had also been a tornado and heavy rain that had come through just a few days before we arrived. That made it difficult to get these birds to come into our calls no matter how much we tried. With disinterested birds, we did some hiking and scouting and found what we thought would be a perfect spot for the next day's hunting.
The next morning felt different. The sun was coming out, the skies cleared and the turkeys seemed to be more active. We got into a medium flock around 8 AM, but we couldn't seem to get the lead tom to come into gun range. We worked that flock for the next hour and a half to no avail. The big boy stayed in the heavy brush. Perry's son stopped by our area and said there was a longbeard in full strut in a different pasture. We jumped in the trucks and headed over.
We arrived around 10 AM and saw the longbeard with two hens. Phillip let off a couple of calls and we got a gobble back. We did the back-and-forth for the next 10 minutes. Phillip pulled out his Reaper decoy to get him in close. That big old boy took one look and lit out towards the hens. Phillip turned to us with a gleam in his eye. "Lose it all" he told Drake and I. We shed everything, our vests, bino caddies, tripod and everything except our jackets, shotgun, and camera. He told us to crawl to the fence line and that we were going to run down the side of the pasture in the woods. We did just that, crawling and running, as quietly as we could down the fence line, in the woods for about 200 yards.
As we crawled back up to the fence line, we could see the turkeys. Phillip called and the lead strutter gobbled but wouldn't come closer. We decided to go another 75 yards down the fence line and set up. Phillip called again and got a gobble back again. This time he was interested, we kept this going for another 10 minutes. From the increasing gobbles, we could tell he was coming our way. Phillip was really excited. "Get ready and don't move" he said. I felt like I was a statue (those of you that know me know that's impossible). After a couple of gobbles, I finally saw the big strutter's white head and then I saw his tail fan. I whispered, "There he is, he's coming". I felt he was in range, but I was waiting for Phillip to say shoot him. Before I knew it, he was back over the hill and out of sight. Phillip started to walk off and said, "Let's go find another one". Drake and I stood there looking at each other kind of disappointed. Then that tom fired off one more gobble.
I whisper yelled at Phillip and said, "he gobbled again", "let's go after him". Phillip froze, then quietly came back to Drake and I. He laid out a new plan for us to belly crawl out in the open pasture with the reaper decoy and see if we could get the turkey within range. We got as low as we could and crawled out about 30 yards. It felt like it took us forever. Phillip started calling and the strutter gobbled, and we could tell he was coming back towards us. We then crawled another 30 yards and this was our final set up. The longbeard would gobble and walk and gobble and walk. 10 yards that time. 5 yards that time. Then another 5 yards and he stopped to gobble again. I wanted to shoot but Phillip said, "let him come closer and keep the red dot on his head". Phillip called a couple more times and the strutter gobbled and then finally he was close enough. I heard the magic words, "shoot him". I'd had the red dot on his head for the last 25 yards, and I pulled the trigger. When that shot hit him, he did a backwards somersault and never moved again. That combination of the RXS250, Retay, JEBS Choke and Federal TSS never ceases to amaze me.

I was so excited for this beautiful bird, I forgot about getting the picture at that old log cabin. Oh well.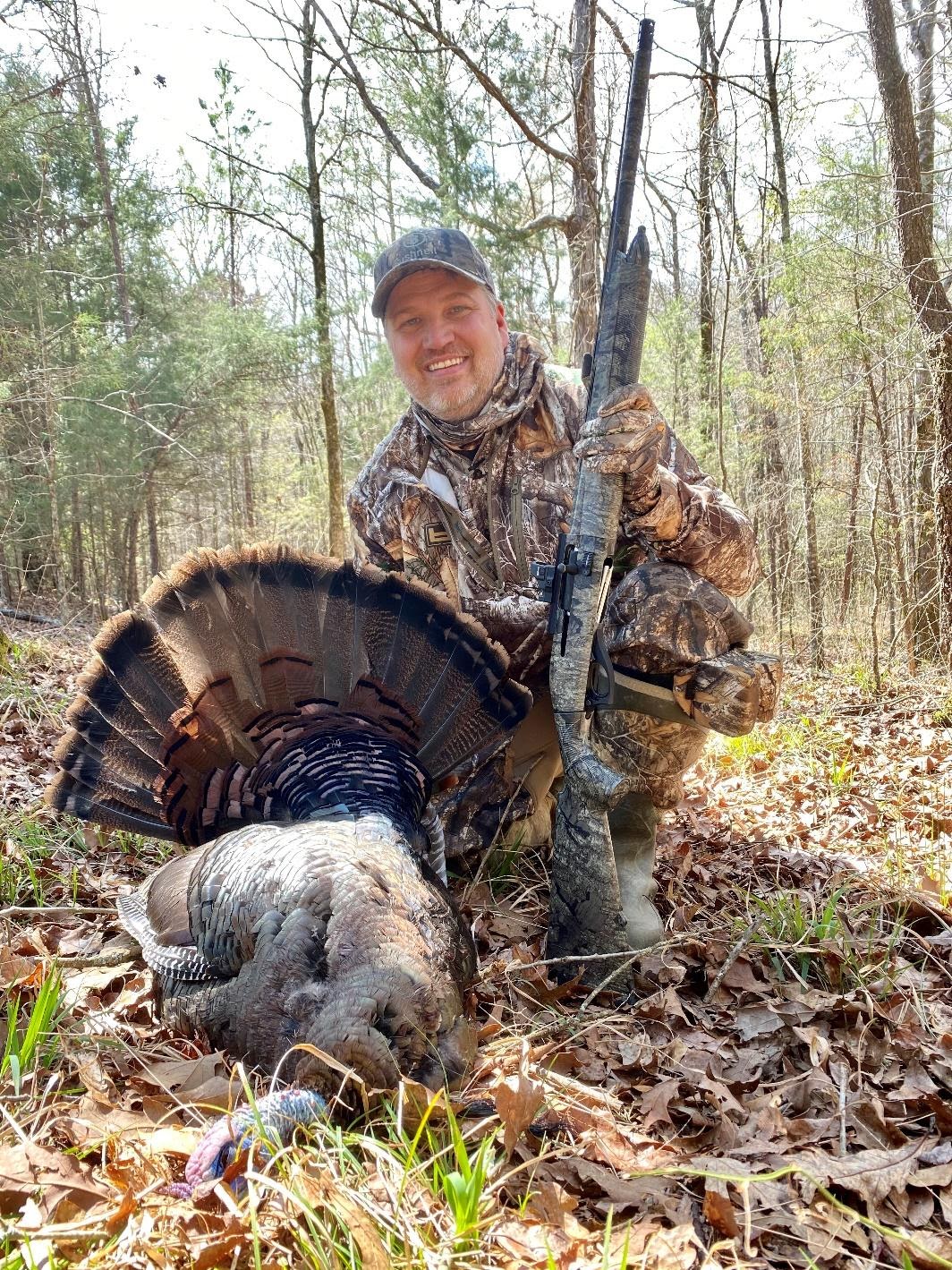 Situation
Weather:
North Mississippi - Low of 34 degrees and an a high of 67 degrees but when we were hunting it was around 65 degrees at noon when I bagged my Eastern Gobbler
It was partly cloudy all morning but around 11 AM the sun came out and the Gobbler was strutting in the open field and the moon that night was waxing crescent
Gear Used:
Retay Shotguns – 20 Gauge Masai Mara

JEBS Choke Tubes – Head Hunter .565 tube

onX – Elite subscription to scout and create strategy for each turkey hunt

Banded – Clothing, vest, and rain gear

Realtree – Using Edge and Timber pattern for gear and shotgun

Federal – TSS Shotgun Shells for 3" 7-9 shot 20 gauge

Primos – Mouth, Box and slate calls and Photoform decoys

Bushnell – Red Dot, Bone Collector LRF, Engage Bone Collector Binoculars
Measurements of Turkey:
Weight: 17 pounds 2 ounces
Spurs: Right/left 12/16"
Beard: 12 2/16"
Missed our first hunt? Check out our Osceloa hunt here: Bushnell Grand Slam: Osceola Hunt.